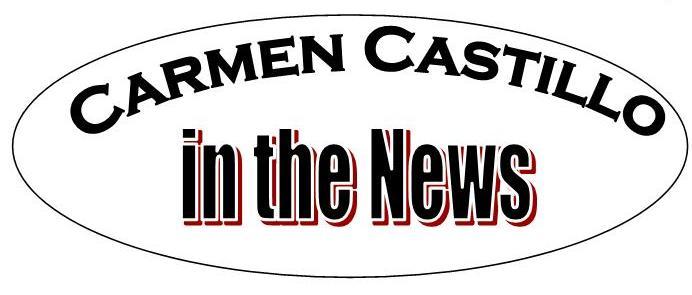 Providence Journal 1/16/00 - For Low wage service workers, life is a daily struggle
http://www.projo.com/words/stor022300.htm
RIfuture.org 5/13/10 - Miguel Luna Re-Election kickoff is a success -Speakers included ward residents Carmen Castillo and Grace Brown, who spoke about...
http://rifuture.org/miguel-luna-re-election-kickoff-a-success.html
Providence Journal 9/8/09 - Carmen Castillo attended the council meeting to support the ordinance
http://www.projo.com/ri/providence/content/PROVIDENCE_HOTEL_WORKERS_09-08-09_3UFKA9F_v15.37d001d.html
Providence Journal 10/2/09 - "We're going to keep fighting and we're not going to let what happened in Boston happen here," Carmen Castillo
http://www.projo.com/news/content/PROVIDENCE_HOTEL_ORDINANCE_10-02-09_7UFTBPF_v15.3a668f0.html
Providence Journal 11/11/09 - Our message to irresponsible employers: "Here's your hat. What's your hurry?"
http://www.projo.com/opinion/contributors/content/CT_quinn11_11-11-09_J2GD69P_v16.3f8a376.html
Providence Journal 5/22/10 - "How can I possibly support my daughters, pay my bills and pay my mortgage on that?" Castillo says.
http://www.projo.com/business/content/WESTIN_BOYCOTT_05-22-10_PQIEA4O_v128.20870b53.html
Providence Journal 2/16/11 - Castillo said the union's next step will be to help workers at the city's Renaissance hotel gain their first contract.
http://www.projo.com/ri/providence/content/WESTIN_CONTRACT_02-16-11_31MHCEM_v12.1a1a8c9.html
Providence Journal 9/18/11 - Nine declare candidacy in Providence Ward 9 election
http://politicsblog.projo.com/2011/09/providence-ri---5.html